Understanding the Different Types of Roofers
Commercial Roofing Companies, Commercial Roofing Contractor, Commercial Roofing Services
Posted on December 13, 2016 by Anderson Industrial Roofing
Hiring the Right Roofers in Irving TX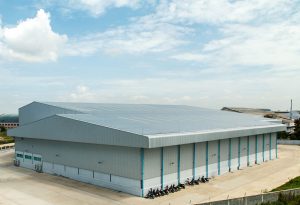 Roofers are individuals who install roof tiles. They are also known as Roofing Contractors or roof carpenters. There are various types of roofers in Irving TX but the types can be divided into four main categories:
Shinglers
These are roofers who are primarily responsible for installing shingles, tiles, shakes and other products that get nailed into the roof.
Metal Roofers
These roofers are responsible for installing metal panels on commercial buildings or on houses and residential buildings.
Flat Roofers
Also known as 'Single ply' roofers, these roofing contractors are the ones who install single ply or foam roofs.
Hot Roofers
Roofers who are responsible for installing roofs using tar-based products are called hot roofers.
Roofers in Irving TX are known to use various styles of roofing on a building while on the other hand certain manufacturers only allow specific kinds of roofers to install the roof on their building.
Another way of categorizing roofers in Irving TX is based on the type of buildings they work with. Broadly we can have two categories – commercial roofers and residential roofers.
Commercial Roofers
These roofing contractors are responsible for installing the roofs of commercial buildings and buildings in industrial areas. They have to have the specific skills required to do the job and commercial roofers usually work in large professional teams. Commercial roof installation involves the use of heavy equipment, thus exposing the roofers to potential hazards. It generally takes more time and expertise to install commercial roofs as compared to residential roof installation. The reason why commercial roof installation is considered more technical is because the roofs generally are flat, or else they are slightly sloped, thus requiring careful and more frequent maintenance.
Residential Roofers
Residential roofing contractors are those who install roofs on private properties and on houses. Residential roofs are generally completed by several individuals. Residential roof installation is not as complicated and technical as compared to commercial roof installation, and generally takes less time too.
When seeking to employ roofers, be careful of the following 5 things:
1. If A Roofer Recommends Shingling Over Already Existent Shingles, Say No.
A roofing contractor who says that it's the right thing to shingle over already existent shingles is not the right roofer, because if a roofer suggests such a thing it shows their disinterest in doing the job the right way. This is because you can never know if the decking under the shingles is correct without having to rip off the whole roof.
Shingling over already existent shingles is never recommended as it adds weight to your roof and there could be many issues with the old shingles or underneath them.
Even if a roofer in Irving TX says he will do the job cheaper for you if you agree to let them shingle over the already existent shingles, do not fall for it because this is likely to cause issues for you in the long run which will be quite heavy on your pocket.
2. Does The Roof Require New Plywood Decking?
A reliable roofer is one who will want to strip off the entire roof till the decking so as to expose all the problems that could be hiding under the shingles. Once the roofer has stripped the roof the price he quoted initially may increase if there are additional problems to address.
After stripping down the roof the roofer will decide if it can be re-shingled or, if damages are very negligible, perhaps the roof can just be repaired. On the other hand if the decking has numerous soft spots or is maybe even rotten then the plywood may need to be replaced with completely new plywood. Replacing the plywood will ensure that the shingles are nailed down permanently. After all, nailing shingles into wood that is rotten and soft is likely to lead to the roof causing issues within a few months or less.
3. Get The Cost For The New Plywood Required
If your roof requires new plywood, then be sure to ask your roofer to provide you with the cost in a written agreement. Roofers in Irving TX usually include the cost of installation alongside the cost of the new plywood that requires installation.
Roofers in Irving TX usually charge about $65 per ½" sheet installed and up to $75 per ¾ sheet installed. If the number of sheets reached 50 or more, most roofers in Irving TX will bring the cost down and make it more economical for the customer.
The customer is always better off if they negotiate the cost beforehand, or else the roofer has the advantage. Therefore it is always best to ask the roofer directly about the best price they are willing to offer for new plywood. The more plywood required, the more economical the price usually quoted.
4. Warranty
When purchasing shingles it is important to get to know which brand you are purchasing as well as what the warranty is. It is always best to stick to known brands such as CertainTeed, GAF and Owens Corning. For example, GAF gives a 50 year warranty on all of its roofing products.
5. The Right Insurance
When hiring roofers in Irving TX, always be sure to ask the roofing company if they carry 'roofing liability insurance'. Also ask if the employees are insured with workers' compensation insurance.
This is essential because incase the roofers do something that causes damage to the residential or commercial building or house then liability insurance will cover the costs that would otherwise be borne by the owner of the home of business. Similarly if the workers are not covered by insurance, the property owner would be held liable if any mishap occurs.
Normally owners of residential buildings or houses do not as if the roofers are covered for both types of insurance. However irrespective of whether you are hiring a roofer in Irving TX for residential or commercial purposes always ask for proof that the contractors are indeed insured.
Conclusion
There are a number of good roofers in Irving TX and now that you are aware of the basic things to be looking out for when hiring a roofer in Irving TX go ahead and have your roof installed by the right roof contractors.

Sources
http://northeastremodelinggroupinc.com/hiring-a-roofing-contractor/
https://en.wikipedia.org/wiki/Roofer
https://www.thumbtack.com/tx/irving/roofing/