Anderson Industrial Roofing offers Membrane: TPO PVC EPDM Roofing
TPO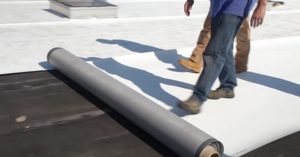 TPO roofing systems offer flexibility, versatility, and high performance. TPO is the fastest-growing
commercial membrane roofing system
around and is at the forefront of single-ply roofing technology. It's engineered for superior, long-term performance and offers the added benefit of being environmentally sound. Those who've used and installed it find that its advanced reflectivity joins nicely with
cool roofing solutions
, helping to keep their storage facilities, warehouses, and working environments more cost-efficient.
TPO roofing membrane
offers the best of PVC and EPDM. It is made by combining ethylene, rubber, and propylene. With the addition of various other filler materials like fiberglass, talc, and carbon filler, the membrane is made stronger and more durable. The biggest drawback of TPO is that since it has been introduced recently in the market, companies have yet to find the perfect combination that will create a strong membrane. TPO roofing has now reached a stage where it can offer quality and warranty.
PVC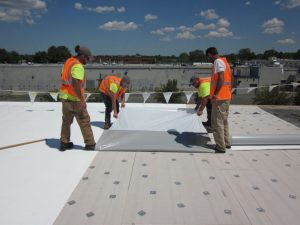 PVC is a plastic flat roof material that is formed by a gaseous reaction between oxygen, hydrochloric acid and ethylene. It is one of the strongest flat roof materials amongst TPO, EPDM and MOD-BIT. According to American Society of Testing and Materials (ASTM), a roofing membrane must have a breaking strength of around 200 PPI. In the case of PVC, it surpasses ASTM's standards and its minimum breaking strength is 350 PPI. To make sure that it prevents water from penetrating the roof's inner surface, the seams are welded with hot air. Once complete, the points welded become stronger than PVC itself.
FULLY-ADHERED Assembly
In a nutshell, PVC membrane is attached to the substrate using a special adhesive. Even though this is a quick and simple installation method, it has one major disadvantage. In case condensation forms underneath a PVC membrane, which sometimes happens as a result of poor ventilation of the roof deck, it will cause the adhesive holding the membrane in place to become loose. As a result, the loose membrane will be susceptible to wind blow-off.
MECHANICALLY-ATTACHED Assembly
Another possibility is to mechanically attach your PVC roof to the substrate using heavy-duty screws and barbed plates, which will hold the membrane down tight. This type of installation ensures that even hurricane-level wind will not tear off your roof. If your building is located in a high-wind area, such as along the coastline or on a high hill, it is best to go for mechanically-attached installation.
BALLASTED Install
In a ballasted installation, a PVC roofing membrane is laid across the substrate loosely, rather than being fastened or glued in place. The membrane is held in place with a ballast, which is typically made of washed river rock, manufactured concrete pavers, or other materials of substantial weight.
EPDM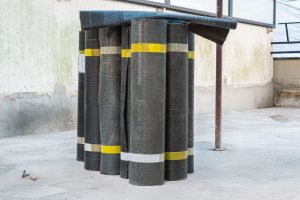 EPDM roofing is usually the second choice after PVC membrane, mostly because it is cheaper. EPDM is like a giant sticky rubber mat that must be laid down by a professional commercial roofing company to avoid any bubbles. Since there is no welding involved, with time it can become susceptible to leakages.
EPDM & Rubber Roofing System Benefits
Cost-effective, easy, long-term maintenance, excellent weather-ability. Lightweight and flexible, it is an ideal second generation roof-recover choice. Made from ingredients derived from oil and natural gas, EPDM can be fully adhered, mechanically attached or ballasted with seams sealed using a liquid adhesive or specialty tape. EPDM roofing membranes provide options to address specific energy cost needs. This system tends to have lower long-term maintenance costs with a consistent preventative maintenance program.
EPDM's Secret Weapon
Engineered to last. The EPDM membrane is formulated with carbon black, a pigment that excels at absorbing UV radiation. Combined with the propylene in the EPDM membrane, it produces a strong "backbone" that allows the unreinforced membrane system up to 300% expansion while retaining every bit of its structural memory.
MOD-BIT
MOD-BIT, or modified bitumen, is a complex roofing membrane and hence, must only be applied by commercial roofing professionals. The multi-ply membrane has a base layer that is attached via bars or plates to the roof. Then, using a permanent adhesive, the roof's base is sealed and then for the final touch, a granule top is applied for energy-efficient properties.
Choosing the wrong roofing material can become quite expensive if your house's roof cannot bear the material's weight. Other factors include weather conditions of the place where you live and roofing contractors available nearby. This is why it is important that you hire a roofing company to perform a roof check and ask for their recommendation. Anderson Industrial Roofing is a contractor that offers commercial, residential and industrial services in roof repair, installation, replacement, and restoration. Having more than 25 years of experience under its belt, the company's professional roofers have performed several jobs all over Texas and nearby states. For further information about their services, contact us today.