Spray polyurethane foam (SPF) roofing provides a dependable, energy efficient roofing system that improves a building's thermal performance year round. Polyurethane foam roofing is applied as a liquid, which forms a lightweight, durable and seamless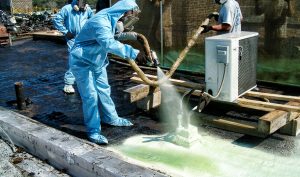 monolithic membrane. Once applied, it expands thirty times its original thickness, filling in cracks and crevices that would otherwise allow air and water to intrude through your buildings commercial roofing. Polyurethane foam roofing is also a potential solution for roofs with standing water.
With its closed cell structure, SPF forms a watertight roof coating that literally requires damage completely through the material for leaks to occur. With its superior adhesion properties, Polyurethane foam roofing will strengthen the roof, improve a building's integrity and offers a solution where the wind uplift is an issue for your buildings commercial roofing. SPF is especially beneficial for flat roof and low slope roofs.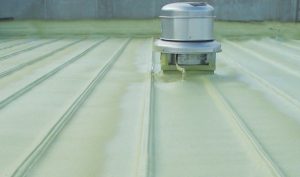 Polyurethane Foam Roofing Benefits
The installation of a polyurethane foam roof can potentially extend the lifespan of your existing roof, and prevent the need for the expense of a tear off and replacement. However, the roofing surface must receive repairs if needed and extensive cleaning in order to ensure full adhesion. Once the polyurethane foam roofing is applied, an elastomeric roof coating seals it, providing protection and solar reflectance. Polyurethane foam roofing may also be installed in new construction.
SPF is an exceptional insulator, and reduces energy use by sealing the roof against both air and water leaks.
Polyurethane foam roofing reflects UV heat and radiation, providing a cooler roof, and a cooler environment inside the building during the cooling season, and holding warm air in and keeping cold air out during the winter, for year long savings.
Installs quickly, and is ideal for uniquely shaped architecture, conforming to almost all shapes and types.
Polyurethane foam roofing expands and contracts with the roof movement in response to the sun, or its absence.
Low maintenance requirements.
Resistant to fire, chemicals, hail and weathering.
Offers a lifespan of 50 years or longer with minimal maintenance.
Installation is directly applied to the existing substrate and the product dries in seconds.
Low VOC emissions, and chlorofluorocarbons (CFC) free.
Reduces noise infiltration.
Reduces thermal shock to your commercial roofing.
SPF roofs are durable and can handle foot and construction traffic of normal maintenance on your commercial roofing.
Can potentially corrects damaged substrate and/or poor drainage.
Seals flashing and roof penetrations against leaks.
Because SPF is sprayed in place, it is ideal for increasing the slope of an existing roof, improving drainage.
Provides an insulating R value of 6.5 per inch of product.
Offers a proven reliability with a history of over 35 years in use as a commercial roofing product.
Polyurethane foam roofing can be applied to almost any type of commercial roofing, with little if any disruption to your business activities.
Energy-Efficiency
Polyurethane foam roofing offers superior reflectivity, enabling it to pay for itself in a reasonable amount of time with lowered energy costs, and increased comfort. Only use a qualified roofer with SPF experience in order to receive the product's benefits and advantages.
SPF is a Cost Effective Option
Spray polyurethane foam is an affordable roofing and insulation solution. Once you consider the extended lifespan, and the significant energy savings, SPF is a cost effective option for roofing. In addition, it is easy to repair while maintaining the products lightweight seamless finish. While SPF is lightweight, it adds considerable strength to a structure that requires only minor maintenance. A simple rinsing each year, and reapplying the protective top coating periodically is all that is required.
The application of polyurethane foam roofing requires the steady, experienced hands of a licensed roofing contractor. There are a number of missteps that can result in the failure of polyurethane foam roofing. Ensure you hire a licensed roofer, who is qualified and thoroughly trained with foam roofing installation and maintenance.
To seal and further weatherproof the building and your foam roof, we complete each foam roofing installation job by applying a UV resistant elastomeric coating system. Our coatings display superior durability and maintain a low-temperature flexibility for long lasting performance.
To receive additional information about spray polyurethane foam roofing, get in touch today! We can provide you with a free commercial roofing estimate. We strive to meet and/or exceed the industry standards and your expectations.